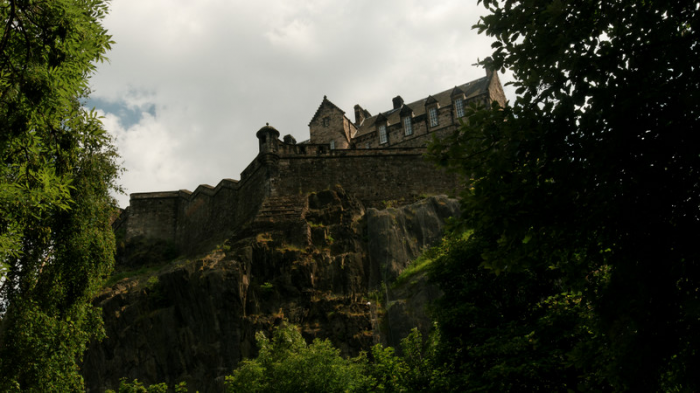 After my somewhat hilarious non-encounter with Royalty, I decided to camp close by so I could return to The Glenlivet the next day and take the grand tour.  I returned to a small pub I'd come across on my way in to town, sat down with a pint and continued reading my book.
A man in his 60's sat down outside with the publican.  Though I couldn't be 100% sure I could have sworn he, under his breath, commented on my long hair, suggested I was gay and accused me of being English all in the same sentence.  I lifted my gaze and stared at him for a few moments – my glasses had darkened under the sun and I put on my best psychopath stare.  He looked satisfyingly concerned and I returned my attention to the book.
Jupiters Travels – The story of a British man, Ted Simon, who spent four years travelling 68,000km around the world on a motorcycle.  I tried to absorb as much wisdom from his story as I could.  When people ask why I have undertaken this journey, the most common answer I give is "because I can."  I don't really have any other reason and haven't felt compelled so far to concoct one.  When Ted was asked the same question around half way through his journey, he replied "to find out."  To find out what?  "Why I'm on the journey".
Thunder struck and it started to rain just before I arrived at The Glenlivet.  I was somewhat wet as I locked up the bike outside, but not annoyingly so – after all, there was the promise of whiskey to keep me warm.  After perusing the fine whiskeys available in the shop and some brief excitement with the fire alarm, I was booked in to a tour of the establishment.  Sadly no pictures were allowed on the tour with the exception of the shop – and the business end of the tour – the dram room!
As soon as the tour was over, my shop purchases safely stowed, I was away, aiming myself roughly for Edinburgh.  The sky started to growl again.  It was raining again, but different this time – huge rain drops crashed all around me and the road instantly turned to puddles.  It was rain unlike anything I'd seen for a long time.  I kept my eye out for a suitably-leafed tree to shelter under, but within minutes I was so completely sodden that stopping would have only served to make me cold.  It was best to simply move on.
It was several days since I'd seen any sort of grocery or corner store so I didn't have much in the food department.  I had rice and lentils, so I wasn't going to starve, but that was all.  It was Saturday and getting late in the afternoon.  Judging by the GPS, there only seemed to be small villages immediately in front of me.  It was conceivable that I wouldn't find food until Monday.  I turned a corner and sighed relief at the sight of a corner store with an open sign standing near the front door.  Hurrah!  It was, of course, closed.  After standing around for a minute, looking suitably miffed for any villagers that might happen to be looking out their window, I moved on.  I passed through a number of "villages" and began to wonder what exactly constitutes a village in Scotland.  "A couple of houses what are close together" seem to fit.
I was greeted by a man in front of his house.  I was riding uphill so he had time to invite me in for a coffee before I disappeared from view.  I was still completely drenched and feeling a bit miserable – I accepted without hesitation.  (As I write, it's now a month since this happened so I'm not 100% sure of their names, but I think they were Graham and Karina?)  I told them about my plans and we chatted for a while.  I quickly drank my coffee, refilled my water bottles and with a little bit of local knowledge about the best route to take, I was on my way.
I'd only cycled about 10 miles before I came across the town of Tomintoul.  The only shop open was a strange shop that sold arty/tourist type things, but more importantly, shortbread, some sort of chocolate biscuits bread and some other miscellaneous nibbles.  I had planned to cycle more than 10 miles today, but I didn't seem to be drying out and the shop owner told me about a spot at the edge of town were wild camping is encouraged.  I happened to overhear a conversation about the weather on the way there.  I was happy to hear a Scot describe what I'd just ridden through as a "torrential downpour" and that it wasn't my mind exaggerating.  The forecast for the days ahead wasn't positive.
For the next four days I employed the wax-on wax-off method of bicycle touring, ride for a day and then take a day off when it refuses to stop raining.  To be caught out in some bad weather during the day is one thing.  Packing up and getting everything loaded on the bike when it's continuously raining is another, and not a pleasant thing to contemplate when you've just woken up.  The benefit of having such a large tent is that if the weather is foul, I can just stay inside all day, keep perfectly dry and not feel at all cramped.
As the days went on, the hills started getting a bit more serious.  I saw a touring cyclist approach.  He examined the many bags attached to my bicycle.  A wry smile appeared on his face; I felt as if he knew what was ahead of me and that I was going to struggle with so much equipment…
The weather simply couldn't make up its mind as I made my way through the Grampians, and as time went on I became accustomed to and not too bothered about riding (or pushing) in the rain.
As I loaded up my bike one morning (OK, afternoon) I noticed my front tyre was mostly flat.  I wasn't sure how it had happened.  I tried to pump it up and it seemed to hold, but I suspected that it would only be a temporary fix and sure enough within an hour or so, the front tyre started to get squishy again.  I fished out my tyre levers, and a spare tube.  The tube was badly twisted in a couple of places, which was surprising as this was the wheel I'd sent away to be professionally rebuilt with a dynamo hub.  The tyres on the bike were the original stock tyres, probably a few years old now.  I decided to switch to the folding Schwalbe Marathon Supreme I was carrying as a spare.  I'd keep the old tyre for now in case I needed it, but I decided to get a new tyre for the back when I could.  Schwalbe Marathon tyres are known for being the toughest tyres around and very good at preventing punctures.  The last thing I need is a puncture when it's raining, or while I'm thundering down a 20% incline.
Somehow this small challenge and being able to overcome it seemed to lift my spirits and I began to cycle out of the Grampians on a high note.  I passed another touring cyclist – we waved and as he passed said "the wind's behind you!"  I hadn't even realised.  At that moment, the wind was light, but it was blowing behind me – and it was glorious.  It had been such a long time since I'd felt a tail-wind and I seemed to be cruising the slight incline of the road effortlessly.  I passed two beautiful white horses, grazing at the edge of a forest, a herd of deer appeared over a nearby crest, the sky was blue and all was well with the world.
Of course it didn't last.
I made camp and awoke the next morning to find my GPS was broken.  It just wouldn't turn on.  Such an important bit of kit, I immediately felt lost without it.  I was on an A road, so i did, in fact, know where I was and which way to go, but my thoughts immediately turned to finding a replacement.  By days end I'd found my way to the smallish city of Perth.  I held out hope that I'd be able to walk in to a camping store, find the exact model of GPS that I wanted and be done with it but, as I suspected, it wasn't to be.  I tried three camping stores and none had the specific model I needed.  I spend several frustrating hours at the local JD Wetherspoons trying to get online to locate a replacement.  I gave up and decided to backtrack to a camp site I'd passed on the way in to town.  Little did I know they'd put me in a spot with power and wifi.  It was Thursday night.  I ordered a replacement and paid extra to have it delivered on Saturday so I could keep moving towards Edinburgh.
Of course it didn't arrive on Saturday.
The weather was on-and-off and I passed most of the time holed up in my tent getting reacquainted with my addiction to the computer game Civilization IV.  The GPS arrived on Monday but I didn't care – I was too busy finishing off the Egyptians, fending off a German attack and trying to keep the Aztechs appeased.
It was very late on Tuesday night when I realised that I should have left as soon as the GPS arrived.  I needed to submit my application for a replacement passport in Edinburgh and I still had to pick up my passport photos that I'd had sent to a host on warmshowers.org.  The problem was the Australian consulate closed on Thursday morning and then weren't open again until the following Tuesday.  I really didn't think I was going to make it, so I decided to stay where I was until Thursday or Friday and make my way to Edinburgh in a more leisurely fashion.
Staying put for a week was a dangerous mistake (that I was to repeat later) – getting back on the bike, my muscles ached even more than when I'd started the journey.  The person I'd had the passport photos sent to was away, but he'd left the photos in a garden shed for me.  I rang the host I'd organised for Edinburgh who had assured me I could "come and stay any time."  I rang to let him know I was on the way, but he had other people staying and couldn't accommodate me.  Crap.  When I finally found some wifi I put out a few messages to other hosts in Edinburgh I'd initially contacted long ago – to see if anyone could help me on short notice, but to no avail.  In the end, I found a camp site about 4kms out of the city.  I spent a couple of nights there.  As I travelled through town I passed the French consulate.  There was evidently some sort of function – Piano and saxophone jazz wafted through the open front door and the front steps were adorned with well dressed french people sipping champagne and chatting with one another.  I had visions of VB-swilling Aussies head-banging to AC/DC outside the Australian consulate, but I arrived disappointed.  My passport application was accepted, I explored the city on my bike and visited Edinburgh Castle.  It was expensive and touristy, but I'm glad I went.  Edinburgh is a beautiful city with a rich history and unlike most Londoners, the locals seem to actually enjoy living there.
I was able to pick up camera intervalometer #3 from my WarmShowers host and enjoyed finally being able to take some timelapse photography again.  I had packed up and loaded the bike late in the afternoon, and planned to spend half the night doing timelapse on Edinburgh streets, and the other half leaving the city before the traffic started.  There's many cities in the world where I wouldn't be out in the middle of the night with my camera, but Edinburgh seemed safe.  It was after midnight when it started to rain lightly – more than enough to make me put the camera away.  I had hoped to stay for a few more hours, but it didn't look like the rain was going to stop.  I decided to head for Glasgow.  I rode at a leisurely pace, stopping off for energy drinks here and there.
I was riding on A roads and at around 5 or 6am the traffic started to pick up so I kept a lookout for somewhere to set up camp.  It wasn't long before I came across a small national park – I listened to podcasts until early afternoon and slept for the rest of the day/night.  The replacement-replacement intervalometer was playing up somewhat, in fact it had been since I'd received it.  It seemed to only work in some positions, like there was a bad connection somewhere.  As I have come to expect, it eventually stopped working altogether.
The rest of the ride to Glasgow was uneventful.  I was to stay with Bruce and Katy, who went away for the weekend just before I arrived, but very generously left keys out for me.  It was wonderful to live in a house again – Electricity!  Internet! A FRIDGE!  In anticipation of such luxuries I bought a box of Coco Pops on the way, which I polished off in the manner of a few days.
Bruce and Katy were wonderful and graciously put up with me for over a week while I waited for my passport and generally procrastinated.  I certainly should have gotten out more, but I did enjoy catching up on some TV and mastering Wii Sports Resort Table Tennis.  I did get to a camera store in Glasgow and test both my original failed intervalometer and #3 just to confirm that they don't work and that the problem isn't with my camera.
It's now been nearly two months since I started this journey and so far I've covered… well most of Scotland.  While you won't find me rushing any time soon, I really do have to start getting a move on.  Once i step foot in France, I only have 90 days in the Schengen Region (most of continental Europe) so I'm going to have to up the pace, or be forced to catch a train to avoid breaking visa conditions (and stay ahead of winter)
This post is dedicated to my ceramic friend Gnorman, who has been with me on the journey since I left Australia, but was killed in a tragic zipper accident in Edinburgh.  Rest in peace, Gnorman.
Video of this leg:
GPS track: