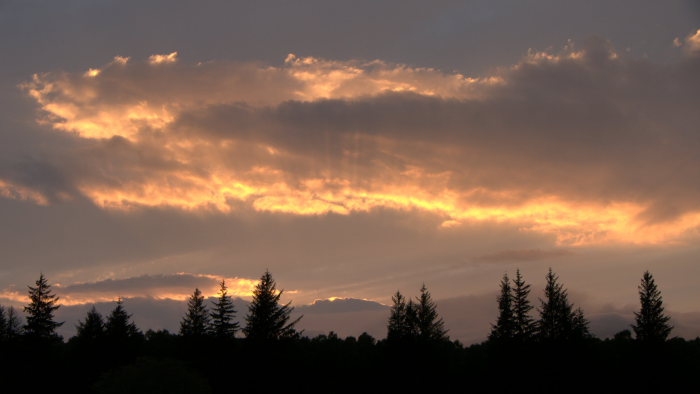 After a nice birthday in Lybster, it was time to move on.  I was in no hurry, I'd ordered a replacement intervalometer for my camera.  The closest I could find was on eBay Switzerland, so it was going to take at least a few days to get here.  I'd arranged for it to be posted to Alness post office, some 90 miles away. Off I went, aiming for Helmsdale – I'd been warned that there was a nasty hill on the way.
After a rewarding pint at a local pub in Helmsdale (I like to reward myself whenever possible) the locals informed me that you can camp just about anywhere in town and nobody would mind.  The publican offered a grassy patch in his car park, and a local suggested some grassy out-of-the-way spots just past Helmsdale harbour. I found a nice spot (see video below) – opened my kitchen pannier and… disaster… I'd bought a bottle of lucozade to transfer my vegetable oil to, as the lid on the supplied bottle looked flimsy.  My suspicious were confirmed when I found just under a fully litre of oil slopping around the pannier. I cursed briefly, but found it within myself to laugh at my own misfortune, and cleaned up while cooking dinner. I'd decided to be a little bit adventurous and experiment with a concoction of onion, red pepper, lentils, rice and crushed pappadums.
The next day was uneventful, only travelling about 15km before coming across a camp site and being unable to resist the lure of a hot shower. After another late start, having only travelled a mile, I entered Brora village proper and spotted a nice looking pub.  After riding around in circles for a while, debating whether I should reward myself so early, I gave in..  It's still at least several days before my parcel will arrive in Alness and Alness is only 60km away.  No need to hurry. I was invited to stay the night by a couple of charming locals… I'll leave describing the rest for the video below!
After finally being able to sleep at 4:30am, finding some surprisingly refreshing sleep on a couch, I was off again. The next two days were pretty demoralising.  The wind started to pick up and it's amazing, when you have the aerodynamic profile of a portly hippopotamus, just how much the wind can affect you.  At one point the wind seemed to be behind me and I was cruising along around 25km/hour.  After taking a roundabout and changing direction 90 degrees, suddenly I'm struggling to reach 10km/hour and expending more energy in doing so.
I did visit a genuine Scottish castle – Dunrobin – originally built in the middle ages, but extended and rebuilt after fire several times since.  It was a bit of a hurried tour as I arrived less than an hour before closing time, but an interesting insight in to aristocrial excess nonetheless.  After my whirlwhind tour, I wanted to get as close to Alness as possible, expecting to be able to pick up my parcel on Monday and be on my way.  There didn't seem to be any camp sites in the area, and all the good looking wild camping sites were, of course, way back before I was actually looking for one.  Eventually I found a spot in.. well.. a ditch – between the A9 and a railway line.  It seemed well camouflaged by shrubs and I surreptitiously took the bike down while nobody was looking.
The next day after yet another late start, I cycled the last 8 miles or so in to Alness and headed straight for the post office.  The package I was waiting for hadn't arrived, but a lovely care package from Louise and Mano had:
I'll leave the rest for the video I keep referring to.  Initially I was just going to make something very short, but I had to wait in Alness an extra day for the invervalometer to arrive, so I got a bit carried away.  It was a good chance to experiment with the footage I have so far – see what works and what doesn't.  If you can spare 10 minutes, here it is:
Lybster to Alness, Scotland from Jordan of Oz on Vimeo.
And the map of this leg: