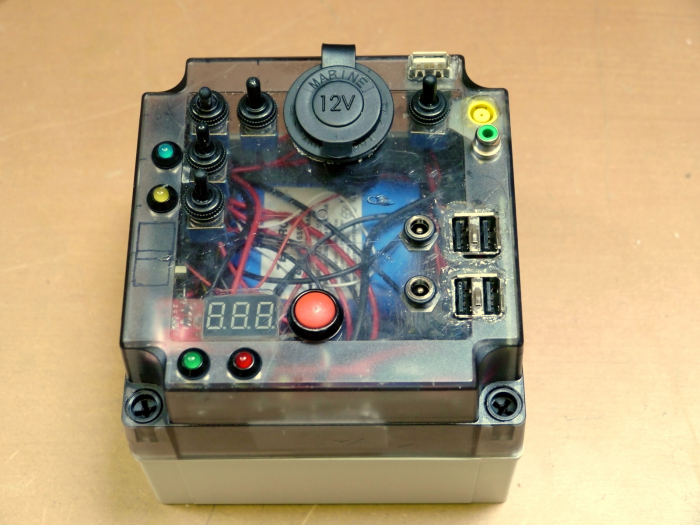 The Improvised Electronic Device was born out of a desire to be electrically self-sustaining in the remote places I plan to go.  It's not that I'm trying to save the planet, I just don't want my iPod to go flat.  While it's not uncommon for bicycle tourists to have a few gadgets these days, I'll be travelling with the following electricity-hungry devices:
Notebook computer
Digital Camera
Garmin GPS
iPod touch
Mini USB powered speakers
Zoom H2 field recorder
Front and rear bicycle lights
SPOT satellite GPS messenger
My plan was to have a battery pack that could be charged with a standard AC/DC adapter whenever mains power is available.  The battery pack could then be used to run or charge any device that needed power, and be gradually topped up by a Schmidt SON dynamo hub on the front wheel of the bicycle.  Sadly after much searching I, like others, have come to the conclusion that such a device doesn't exist.
Charging a battery from a hub dynamo is no simple task.  Getting the (fairly small amount of) AC power from the dynamo hub to a battery efficiently is one problem.  Being able to also charge the battery using a DC adapter and preventing the battery from exploding due to overcharging is another.  Enter the Tunecharger – a circuit made in France which is designed to do… well, exactly that.
The Tunecharger uses MPPT – Maximum Power Point Tracking to feed power to the battery while constantly monitoring the voltage.  An End-Of-Charge voltage can be set to prevent overcharging the battery.  Thanks to Alex Lockhart and Garote and Chris Devenish (whose blog appears to have disappeared now) – the descriptions of their devices led me on the path to building my own.
The IED contains:
Tenergy 18650 66mAh battery pack (11.1V nominal)
Tunecharger circuit
Texas Instruments PTH08000W circuit
Texas Instruments PTN78000W circuit
Random voltage regulator circuit from ebay
12V car socket
Lenovo socket for DC adapter
2.1mm DC plugs for 9.3V and 9.0V
Four USB ports
LED battery voltage display
Various status lights
Lots of switches/button
The general appearance of having been built by a mad scientist
It remains to be seen whether the device will hold up to the harsh conditions of touring but so far it seems to work.